2005 Race Report 8:
8/27-28/05 - Blackhawk Farms, Rockton, IL
---
It's good to be back!
Our last weekend was at Gingerman on 7/31, so this was a LONG break and was much needed for the mind, body & soul (not to mention checkbook!). Following the Gingerman round, we headed down to Autobahn and met up with Keith Code and the California Superbike School for a day of Level III. That was a fantastic experience, and will serve me quite well.
Following the Code school, we had basically 4 weeks off until this race weekend. I spent a good bit of time freshening up the bike. Changing the oil, cleaning & going through it tightening bolts, etc. I pulled off the forks and shock to have my suspension tuner Ed Kwaterski - www.tracksideengineering.com - go through them, make a few valving changes and freshen them up. Ed had been out of town, so it came down to the last week when he was able to get at everything. Remember that crash back in early July at MAM? Well, the little ding that was in the right fork that I THOUGHT wouldn't be a problem, turned out to have destroyed the bushings inside the fork which REALLY affected the travel and operation of it. I managed to have a new outer fork tube rushed to me and Ed worked through the night on Thursday to finish it up so I could have everything back together for this weekend.
I also took the liberty of having Alexa Krueger from Spyder Leatherworks go through my leathers and reinforce a few seams that were starting to come open due to stress and the MAM crash.
Getting everything back together, I was definitely ready to race.
We pulled into the track shortly after 6:00pm and got everything set up quickly. My buddies John & Greg showed up shortly thereafter. I ran out of energy pretty early and wound up falling asleep on the couch in the RV around 9:00 while everyone else chatted for a bit.
---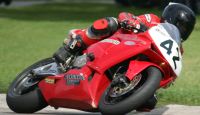 Saturday 8/27:
A GORGEOUS day for racing... Sun out, 80 degrees. I hit the track for practice and immediately knew that some major suspension changes would need to take place. Each session, I would make another change and come back in with that data for the next change. It's all about getting the bike at LEAST as stable as it was before we did the rebuild.
Middleweight GP:
I intended to have a lot of fun in this race, and did not hold high hopes for a great finish. I just wanted to get the bike at race pace and see how the setup was. I quickly found that I needed a LOT more rebound damping in the front end. Going through turn 5, it was like I had a pogo-stick up front. It would chatter like MAD. The rear end was just as bad, spinning up and throwing me around a bit. I ran consistent 1:15-1:16's, about 2 seconds off where I need to be, and crossed the line in 10th.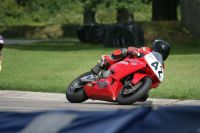 We made a few more changes to get things back on track and I put on a new rear tire for Sunday's races.
Saturday night we spent at the 19th annual Wegman Benefit Auction. The Wegman fund is a nonprofit organization which provides financial assistance to injured roadracers. The auction is always a LOT of fun, and the money spent is well spent. I had many compliments on my Repsol Honda team shirt (button up, embroidered), and had an extra one that I had never worn. I brought it over and donated it for auction and it landed $170!! Later in the evening, as I walked over to get a soda, a fellow offered $100 to buy the one I was wearing off my back! I pulled it off and raised another $100 for the fund. That, coupled with the sizable chunk of change we dropped at the auction made a pretty good donation for the Wegman fund. When all was said and done, the auction raised $29,000!!! Absolutely incredible...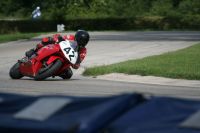 ---
Sunday 8/28:
Another perfect weather day. A lot less humid than Saturday. We continued to work on dialing in the suspension, and the bike is beginning to get its old feeling back. I ran a low 1:15 in practice with little effort, so I figured the bike was pretty good.
Middleweight Superbike:
It's funny. This is the class that I tend to run my fastest lap times in, but the competition is so incredibly strong that I can never manage a REAL good finish. So, for this class, I shoot for top 10.
The race was good. The bike was feeling better, but is still not 100%. I was sliding the back around a LOT. I ran the race, trading places VERY closely with #30, Don Rankin on his new GSXR-600. Don would make a mistake, I'd pass him. I'd start spinning the rear end, he'd come around me. We traded spots probably more than 10 times. Ultimately he won the battle between us and put me down into 10th place.
Coming off the track, I was BEAT! I don't know that I've ever ridden a bike that physically hard before for 8 laps. Riding the bike is physically demanding, but unless you're battling a setup issue or have absolutely poor riding techniques, you shouldn't be this tired. I looked down at my lap timer and noticed another new record for me at Blackhawk. 1:14.11 down from 1:14.3 set here the last weekend. Still, not good enough for my satisfaction though LOL.
A few more changes and we'll see how the final race of the weekend goes...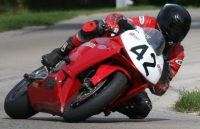 Heavyweight Supersport:
Probably my favorite class...
I started on the middle of row 2, and had a great launch, getting into T1 in 3rd place. Outside of T1, a couple of people got past me, and I immediately put my head down and got on it to see how the changes felt. The bike felt much more stable as I began gaining places back. By lap 2, I had no idea where I was in the running, but watched my lap-timer continually click off very low 1:14 laps.
My buddy Dennis DeBuhr #506 on his GSXR-750 came around me, but I would come right back around him at the exit or at the next turn. Trying to crawl under the paint, I stretched the throttle cables for all they were worth to get a lead on him, but each lap, I could hear him behind me. Riding hard, the rear end was sliding a bit, but not as much as the last race and certainly not as much as yesterday.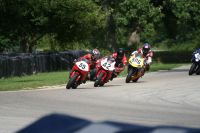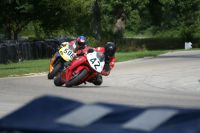 Following Johnny Moore (#55) with Deni right on my tail
Deni came around me in T1, but was so out of shape that I passed him back. We continued to trade places at almost every turn on the track for the next 2 laps. On the 5th lap, Deni came around me again in T1, this time even MORE out of shape than usual (rear end sliding and wagging all over the place). I could have stuffed up underneath him as I had more control, but was concerned that if I did, he would crash. I really didn't want my bud to crash trying to pass me, so I gave him the room he needed and figured I'd get him back. Sadly, I figured wrong. He maintained a couple bike lengths on me for the rest of the race, but was cool enough to turn around down the back straight and give me a thumbs-up as I was right on his butt. LOL...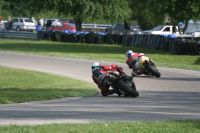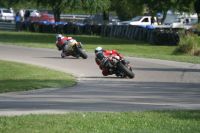 Doing what I can to chatch back up to Dennis
I continued to ride the wheels off the bike to get him back, but just couldn't do it. I crossed the line not knowing where I had placed, only to find out that I was 5th place. This is very cool. Another piece of wood for the Wall-of-Fame! Apparently, Deni and I were the race to watch. The leaders checked out and were 15 seconds ahead of us by the finish, and Deni and I had a 15 second lead on the guys behind us. But we were the only ones trading places in the race, making it fun to watch. Not only was it fun to watch, it was an absolutely fabulous race experience. Dicing with a buddy, riding the WHEELS off your bikes, trading blows at every turn, THAT is fun...
After the race, Dennis and I were both grins from ear-to-ear as we recounted the entire race. Looking at my timer, the ENTIRE race were lap times of 1:14.1 - 1:14.3. That consistency is fantastic for me. What that tells me is that my new race pace as of today is now LOW 1:14. When you set a race-pace that can be sustained, there is something slight that has to be changed to drop another 1/2 second or more. Feeling the bike out, I'm pretty sure I know what that change is, and can't wait for the next weekend to get back on it and see what I can do as I continue the quest for the perfect setup.
Also, after the race, a fellow named Mike (Sindarin on the forum) came up and introduced himself. He's a lurker (mostly) on the forum. He congratulated me on the race and we chatted for a bit about the race, the website, etc. He also threw me some $$ in sponsorship for a race, which is GREATLY APPRECIATED. Since it was after the completion of the races, I won't dedicate a race to him this weekend, but will definitely run one for him at Autobahn in 2 weeks. All the pics contained in this race report are also courtesy of him! (click here for all the pics including ones not shown here)
Speaking of Autobahn... I'm teaming up with buddies John Petta & Greg Langman as "TEAM MEOW" for a 75 lap endurance race (you really have to watch the movie Super Troopers to understand how funny that name is). That will be a GREAT time.
With 3 weekends left, Autobahn is one of two crucial double-points weekends. These double-points weekends can DRASTICALLY affect the outcome of season standings. They will be exciting without a doubt...
---
Thanks List:
This weekend's Thanks List is big!
Ed Kwaterski - Trackside Engineering. Thanks so much for the last minute work on the forks and all your help this weekend getting things sorted out.
Audrey Menarik - Moto Liberty. Thanks for the continued support. You definitely helped out with this weekend and the rest of the season!
Rob Oliva - Lithium Motorsports. Thanks as always for your support and flexibility Rob.
Alexa Krueger - Spyder Leatherworks. Thanks Alexa for stitching me back up and keeping me safe!!!
Fred Renz - Yoyodyne. Thanks for the quick ship on the Brembo rebuild kit. Gotta keep my spares kit stocked up!
Keith Code - California Superbike School. Keith, thanks for the work and personal attention. Level 3 shaved a few tenths off, and increased my comfort. I'm confident that I can drop down another second or even more!
And as always, thanks goes out to all of you who read the reports, donate to us and support us with your words of encouragement and congratulations!