---
Saturday 7/30:
This entire day was practice. The races would be run on Sunday. I spent 4 sessions getting back into the groove of the track. It is a very tight, technical track. The day was rather uneventful, I ran in the low 30's during the day which was okay. I was surprised to see how many people were coming to this track for the first time ever. Perhaps I would do good afterall!
The weather the entire weekend was very cooperative. Sun and low to mid 80's. A nice break from the high 90's which we had been riding in.
Thanks to Jen Symmonds for the pics this weekend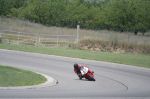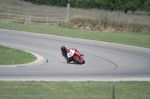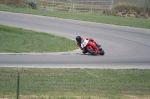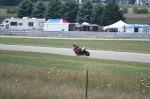 Series of pics through T3 & T4
Sunday 7/31:
Only 1 round of practice today, and it was terrible. There were way too many people out on the track at once, so I ran about 8 laps and called it a session. It just wasn't worth wadding up the bike to continue.
Heavyweight Supersport:
This was a contingency race, so the grid was packed with the big boys who would ultimately go out to beat the track record.
I had a good grid spot on the outside of row 3 which set me up perfect for T2 which is incredibly important. I got a decent launch and made it around my buddy Denis Debuhr on his 750. Deni is beating me in this class by a couple points, so it was pretty important that I beat him. Out of T1/2, the leaders were GONE. I mean, they flat-out disappeared. It was awesome to see.
I ran right on the tail of Edgar and Johnny Moore who I needed to beat as well, but just couldn't make a pass stick. I really need to get my act together on passing because I was faster than the both of them in a number of spots, but just couldn't get around them. Ultimately because of this, Deni ended coming around me to beat me too. That was pretty costly in points, so I have a bit of work to do here.
I stepped up the pace, and began sliding the rear out of right hand turns. I wasn't sure if the tire was going or if it was just the combo of the track and my ham-fist on the throttle.
Across the line in 12th place, I wasn't really pleased, but made it through and ran consistent 1:30.0's the entire race.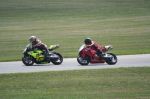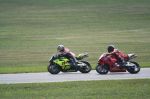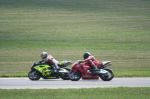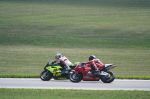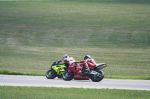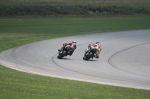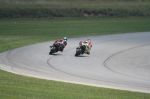 Awesome series of me going around the outside of Rob Oliva from Lithium Motorsports in T2
Back in the pits to cool off for a one race break before going out for:
Middleweight Superbike:
Another contingency race, so same story as last time. The race was quite similar to heavyweight supersport in that I again got stuck behind Johnny & Edgar, and was sliding around the rear pretty hard. Crossing the line in 9th place, I felt a bit better, but the best I could do in times was a 1:31 before the tires were sliding.
I had a 4 race break, so I put on a new rear tire for the last race of the day:
Middleweight GP:
FINALLY a class which isn't a contingency class, so only 1 cherry-picker entered it (still don't know why he did). Looking at the grid, I saw only 3 people who I knew were a good bit faster than me. This could be a good race.
New tire all warmed up, I was ready for action. I launched the bike very good, but blew T2 and lost a couple spots. Flying into T3, the entire group checked up. I shifted to the inside and as I entered the turn (about 15-20mph faster than everyone there), everyone else started turning in. It was a HAIRY moment in time. I elbowed one guy and then made Jeremy Bentz stand his bike up to give me the line. I was in soooo deep and hot I thought it might be all over. I threw the bike over and ground the toe of my boot off (I've NEVER touched a boot before). I think my inside foot slipped off the peg, but I wasn't giving up. My head was down and I gave the throttle a twist. The rear end waggled but hooked up enough to get me through the turn. I gave a quick "sorry guys" wave and took off after the leaders. I was in 7th or 8th now, but knew I was faster than the others.
I went to work getting around everyone I could at every opportunity. I wasn't going to let a passing opportunity go by. I ran up past Johnny Moore who passed me back at the exit of the same turn. I answered it with another pass at the next turn and made it stick by getting HARD on the gas to open a little gap.
In my exchange with Johnny, Jeremy Bentz caught up and passed the both of us. I could see him get around Edgar too. Damn, this is not what I need right now. Okay, concentrate, relax and make this track work for you...
Next lap, I end up behind Edgar. I followed him around for 2 laps, stuffing a wheel up under him in almost every corner. I finally got around him and chased down Jeremy. Another fellow that I didn't know came around me but seemed slower than I was so I had to get him back. By now, we came up on the lapped amateurs.
Traffic can work for or against you. I try my best to take advantage of the mistakes others make in traffic while avoiding them myself. We came up on a lapper in the large right-left sweeping carousels of the back side of the track. Going into the left sweeper, I see the guy who passed me go under the amateur, so I figured I'd go around the outside of the lapper at the same time and pinch off the guy who passed me in the final right hand turn.
So here's the scenario. This poor lapper amateur fellow, all alone, not knowing what was to become of him, goes through the right hand carousel and sets up to turn into the left. This guy shoots under him the same time as I go around the outside of him. The inside guy took a bit of the amateur's line, so he stood up a bit. At that point, all I could see was this AM's rear tire. I swung way wide and hammered the gas. As I start going around him, my rear end starts wagging like a happy dog's tail in all the crap on the outside of the track. I look over and see the guy on the inside, holding his inside line, sliding and wagging the same way. It was the funniest thing I've seen. Both of us, splitting this guy and then sliding all over the place. My plan worked and I got into the next right hand turn before him, and made up the spot.
Back on Edgar's tail and I finally made a pass move around him. It ended up a bit too little too late though as I couldn't close the gap on Jeremy.
I was pretty pleased with the race, and ended up 6th across the line. Checking my times, I was pleased that I beat my previous 1:29 record with a couple 1:28's.
It was great to meet all my goals in the final race. I beat my best time, I beat Johnny & Edgar, and stayed upright. Success was found...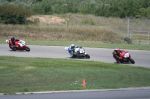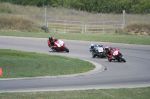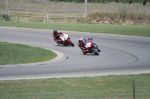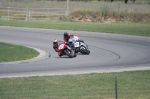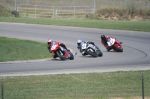 Nice series following #52 Robbie Jensen who beat the track record at a 1:23.0
The race day ran VERY late, so we didn't end up getting home until about 1:00am. Jennifer had to go into work to complete a few things that had to be done before open of business on 8/1, otherwise we would have just ran straight over to Autobahn in Joliet for Level 3 of the California Superbike School with Keith Code.
And with the completion of this race report, I'm off to shower and head down to Joliet for the next round of the superbike school. Here's my writeup from last year's 2 day camp with Keith Code.
---
This weeks thanks list:
Although many helped out this weekend, I really want to give my attention and thanks to my fantastic wife Jennifer. This woman bends over BACKWARDS to ensure she can make my race weekends, practices and schools as well as making sure her company stays afloat. Coming home and managing 2 hours sleep before going into work, then to come home and get a short nap before heading back out, understanding and accepting of every bit of it. This woman is wonderful.