2005 Race Season Wrap-up:
A year in review
---
I can't believe this season is already over. While it was here, it seemed to last forever, but now it's just a blip on the radar screen. There and gone...
Although this is my 5th season racing, this year seems like it was the biggest year of advancement since 2002 when I ran as a top amateur. I didn't believe a season as good as the one I have had in 2005 was possible, but looking at it now, I am confident that 2006 will be even better!
It seemed strange to run the year without my teammate Anthony Connor, his wife Kathy and their little one Ciaran, since they moved back to Ireland. We did manage a respectable and FUN pit though with the fantastic company of John & Jesse Petta, and Greg Langman. I look forward to John and Greg entering the expert ranks in 2006 so we can all race together.
Coming out in the snowflakes of April at Road America, for the first time on the brand new 2005 Honda CBR600RR, I figured with the amount of changes I had made, it would take several weekends before I was comfortable. Happily I was wrong! Within a mere few laps, the massive changes we induced for 2005 proved unbelievably successful. The ultimate result was a bike that can literally do anything. It inspires confidence on every inch of the track. You ask, it delivers, over and over again.
In the multiple changes, we swapped out the Dunlops we have run since 2000 for the new Bridgestone BT-002 tires. This proved to be a tremendous difference. We will definitely be back in 2006 on the 'Stones once again. Other items which we couldn't have done without would be the Yoyodyne Slipper Clutch, Translogic Quickshifter and Trackside Engineering suspension services. These investments paid back at every track in broken personal track records almost everywhere we went.
2005 was also another year with the guidance of the master, Keith Code. Keith reinforced all of the things I had been doing right, and provided simple and sensible instruction for new techniques which made all the difference in the world. If you're riding or racing, you should be working with Keith to get the best out of yourself and your bike.
Memories of 2005
Best moment:
Running 1:27's at Gingerman 10/09 weekend
Worst moment:
Breaking the shift rod right off the line in Middleweight GP on the first double-points weekend 5/07-08.
Scariest moment:
Having my bike die right off the line while gridded on the front row at Mid-America 7/1-3
Best weekend:
Very tough, as almost every weekend was an absolute treat. The last weekend at Gingerman was definitely a great weekend though (despite the destruction of my bike) 10/09
Worst weekend:
Without question, 7/1-3 at Mid-America
Worst crash:
Most annoying crash was the 7/1-3 weekend at Mid-America
Most destructive crash was the 10/9 weekend at Gingerman
Injuries:
None requiring doctor attention or hospital visits, but my ass still hurts from the 10/9 Gingerman fall.
Track Ranking (Most Favorite to Least Favorite run this year):
1. Gingerman Raceway (3 years running now!)
2. Autobahn North (if we would have run this course twice, I think it would be in the #1 slot)
3. Blackhawk Farms
4. Road America
5. Autobahn South
6. Mid-America
---
Consumables & interesting facts of 2005:
| | |
| --- | --- |
| Miles traveled | 5024 |
| Gallons of diesel consumed | 558 |
| Vacation days used | 9 |
| Laps Ridden | 880 |
| Bike miles | 1936 |
| Gallons of Race Gas | 215 |
| Tires | 16 |
| Gallons of Silkolene Racelube | 7 |
| Pints of Silkolene ProRace 2000 Brake Fluid | 2 |
| Carbone Lorraine Brake Pads | 6 |
| Frame slider caps | 2 |
| Races Planned | 39 |
| Races Entered | 42 |
| Team Challenges | 1 |
| Races Run | 39 |
| Crashes | 3 |
| DNF races (did not finish) | 4 |
| DNS races (did not start) | 3 |
| Top 10 finishes | 25 |
| Top 5 finishes | 7 |
| Podium finishes | 2 |
| Trophies | 7 |
---
Season standings Midwest Region:
| | |
| --- | --- |
| Heavyweight Supersport | 4th out of 51 |
| Middleweight Superbike | 6th out of 66 |
| Middleweight GP | 9th out of 61 |
| Overall finish | 18th out of 206 |
---
New personal best laptimes:
| | | | |
| --- | --- | --- | --- |
| Track | 05 time | diff from 04 | 06 Goal |
| Road America | 2:34.5 | -1.5sec | 2:32.0 |
| Blackhawk Farms | 1:14.00 (ugh...) | -1.1sec | 1:12.0 |
| Autobahn North | 1:06 | N/A | 1:04.0 |
| Autobahn South | 1:32.1 | N/A | 1:29.0 |
| Mid-America | N/A | N/A | unknown |
| Gingerman | 1:27.6 | -1.6sec | 1:25.5 |
---
Helping Hands:
Action Powersports
MD Racing
Revlimiter Racing
Solo Moto Parts
Spyder Leatherworks
California Superbike School
Track Addix
Jeff Wood
Thanks List:
Obviously I want to thank our sponsors and helping hands as listed above. Your support throughout the season was key to making this happen, and making it successful. You folks are the best around!
Jennifer, Tori & Queue - My wife, Daughter & Son. Thank you so much for everything you continue to sacrifice for this. You do so without complaint (most of the time), and even enjoy yourselves sometimes. You know I couldn't do this without you there helping me. I thank you and love you from the bottom of my heart.
Mom & Dad - Thank you for all your kind words of encouragement, coming out to see me race, and understanding when we couldn't make it up for various family events.
John, Jesse & Greg - Thanks for the friendship in the pits. It was a great year sharing the group successes and failures. I don't think there was another pit around where somebody snorted pop-rocks!
Johnny Moore, Edgar Dorn & Deni DeBuhr - Great racing guys! You all made the weekends worth coming out.
The personal sponsors from my forum and other acquaintances. Thank you so much for your generosity. Every dime was greatly appreciated and definitely needed!
YOU, the readers of my reports, and people who frequent the website. You are all appreciated, as you keep my sponsors happy, and you keep my spirits high with your words, thoughts & prayers for success & safety. I've been doing this for a long time now, and have been very recognizable to the public, but I still enjoy it every time I stop at a gas station and someone says "Hey, I know you, you're that guy from the website!". Yep, that's me! The smallest famous guy I know. :-) But you make me feel like a million bucks when you say HI and every now and again, throw me a few bucks and ask me to run a race for you. It's one of the neatest things that a person can experience.
And last in text, but first in thought, I have to thank God for keeping me safe, married and out of bankruptcy court! I'm not really a religious person, but I'm definitely a faithful one who believes that God continues to show me the way through the opportunities placed in front of me, and enjoys watching me triumph as well as fall. I continue to live a life that others can only dream of, and I am thankful for every last bit of it.
In constant and eager anticipation of 1st call, sometime in April 2006...
#42 - Jeff Kufalk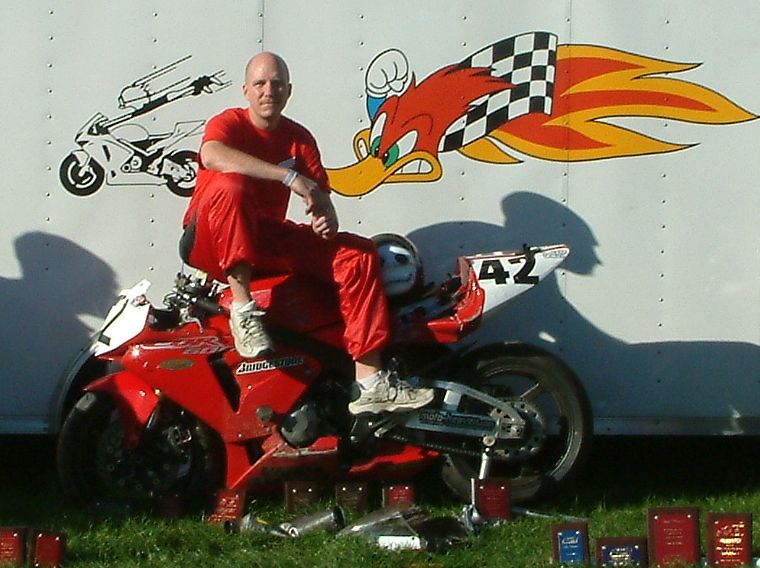 ---
So? What do you think? Am I great? Do I suck? Let's hear it... Post your comments in the Forum