2005 Race Report 11:
10/8-9/05 - Gingerman Raceway, South Haven, MI
---
Bitten by the ones I love
It's win-it or bin-it time again! Yep, the last weekend of the season is upon us. I did have a few things going for me this weekend though:
1, it is a Honda Money weekend, so I stood the chance again to take home some substantial prize money
2, it's at my favorite track...
Friday 10/7:
We met up with John & Greg about 10:00am and set out to South Haven, MI. About 7 hours later we completed our journey traveling a good 5 inches across 3 pages of the ole Rand McNally atlas. Setup went relatively quick, and I fired up the heater in the RV for the first time. It was cold outside, but the heater did its job well beyond expectation.
---
Saturday 10/8:
Today was a practice day, with races late in the day that I was not in.
I mounted up an OLD set of tires, which had seen better days, but would get me through practice. I skipped the first half of the day as it was still in the 40's. The afternoon wasn't much better, only getting into the low 50's, with NO sun to be had.
Practice went fairly well, with me ultimately dipping down to a 1:30.00 for a fast practice lap. The last weekend here, back in July, I set a new personal best with a mid 1:28 laptime, so running within 2 seconds of that in COLD conditions on shot tires was good enough for me.
I called it a day after 4 sessions, and swapped out my old tires for a new set of Bridgestone BT-002 soft compound tires (normally I run a soft front, medium rear, but with the cold temps I went for soft/soft)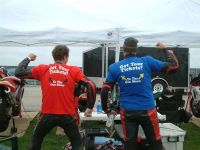 Greg & John showing off the guns. LOL
Sunday 10/9:
4 sprint races today, I was pleased to wake up to a cloudless sky with a lot of SUNSHINE. Temps were rising rapidly, with a high expected of 60 (but we made it to about 65).
I skipped practice as the track was full of dew. My first race would not be until after lunch.
Heavyweight Supersport:
I came into this (double points) weekend in 4th place, with Johnny Moore & Deni DeBuhr tied for 2nd/3rd 53 points ahead of me. In order for me to make up that gap, I would have to finish VERY well, with one of them finishing VERY poor, or if one of them crashed out I would be in 3rd.
My launch was absolutely terrible. I was gridded on the front row, and should have run away with the lead here, but I managed to keep pulling wheelies that I had to get back down. I don't know where I ended up after turn 1, but it wasn't anywhere near the lead.
I started running hard. The bike felt good, the track felt great, and I started making my way through the pack. I ended up 4th, running solid 1:28's, which was good, but not good enough. Johnny & Deni finished 7th & 8th respectively, so I ended up 4th for the region, 35 points behind Deni in 3rd and 39 points behind Johnny who finished 2nd for the year.
Back down hot pit road, I only had about 2 minutes of a break before my next race which immediately followed Heavyweight Supersport.
Unlimited Supersport:
My only purpose in running this class today was to try and land some Honda contingency money. I entered late, so I was gridded on the back row in a pack of 10 or so bikes. My launch was great, but some freaking lunatic did his best to take me out in turn 1. Knowing that I'd get no money for falling down, I gave him the line and stood the bike up onto the outside skirt of the turn. I was DEAD LAST through T1.
Coming off a good race right before this one, I poured it on as best I could and worked through the pack. By lap 2, I was back in 3rd place and running hard with the leaders in sight. Unfortunately I was not as consistent as the last race. Fatigue was taking its toll and I began making mistakes, backing me into the high 1:28, low 1:29 range. Realizing I was still in the money, I just set out to finish the race.
On lap 5 or so, going into T1 (90 degree left hander), I set up to make the turn and a guy on a GSXR-1000 flew up next to my 600 on the outside. Not a big deal, but at our speeds, only one bike will make it through that turn at a time. In retrospect, I could have held my line and forced him into the dirt, but I gave up the spot to him.
In my opinion (and that of a dozen or so people who watched it), it was a cheap pass. The guy stuffed the hell out of me and if I didn't give, one of the two of us was going down. It kinda ticked me off, but I guess that's life.
I chased him back down and caught him on the last lap, but did not have enough power to hold a pass on him, and crossed the line again in 4th for another piece of wood and another $500 from Honda.
I had a break of 3 races before my next race, so I relaxed and got some fluids back into me. The weather was now absolutely perfect for racing.
Middleweight Superbike:
I came into this weekend in 6th place in points, with little chance of overcoming the 35 point lead that Jeff Purk had on me, as he is simply a faster guy than I am. The best I could hope for at this point was to have fun and run some smoking laps. I did both... This class (in case you haven't been following my race reports), is the toughest class I race. It has the greatest competition, and I generally run my hardest laps in it.
I was gridded on the outside of row 1 (exactly where I wanted to be), and got a fantastic launch. I was 3rd through T1, and lost a spot in T2. However, I held onto the first pack of 3. This was the first time I've EVER held onto these guys. It was strange. Either they were running a little slow, or I was running VERY fast. Turns out it was a bit of both.
I held in 4th for the first few (perfect) laps, and then I began making tiny mistakes. The first mistake cost me a spot to Dan Ortega (who is normally WAY ahead of me). A lap later, I nailed a bad line through the VERY important T2, which prevented me from getting back on the gas when I needed to. Jeff Purk and Scott Ryan came around me.
I followed them and felt I could get past the both of them, so I kept running hard, waiting for my chance. That chance came on lap 5. We got into lapped traffic and both Jeff & Scott got hung up. I don't know what the hell I was thinking, as I could have taken them both, but I fell in-line with them and made my way around the lapper, still behind them.
We instantly flew back to lightning pace, pushing harder and deeper into the turns than I ever have before. However, I did it with confidence, not fear. It was exhilarating. I was asking a LOT from the bike and the new Bridgestone tires, and they were both delivering at every turn.
Lap 6, I'm on the tail of Scott & Jeff, we come through the two LONG sweeping turns, 8 & 9. Turn 8 is a HUGE, high speed right hand carousel. There's a small bump near the exit, but if you place your tires on the inside 18" of pavement, dragging your knee in the grass, you will miss it. From T8 you're thrown directly into T9 which is a left-hand sweeper with rough pavement on the inside, and some big bumps toward the middle. I tend to ride the inside with little problems.
Coming through T8, I'm gaining on Scott & Jeff. I realize that if I can get a good drive through T9, I can at least take Scott into T10, and maybe Jeff too. Throwing into T9, I fed on the gas. Gaining a touch of ground on Scott, I dialed on a bit more gas. (Looking at my gearing chart now, I was between 98-106mph.) I felt the rear end push. Being as far over as I was, more gas would be bad. I tried to back off the throttle and pick the bike up a bit, but no dice. It just kept coming around on me.
Sliding across the pavement basically on my back/rear, my left palm again felt the burn of friction. I left the pavement and hit the very rough grass. I took a hard beating right to my butt, and then started the tumble. I stopped, and took the physical collection of myself (arms-check, legs-check, neck-check, ass hurts but I think we can stand). I stood up, and wanted to lay back down, but figured I would manage fine.
I moved out of the impact zone and looked back toward the bike. It laid there, lifeless on the left side. It didn't look bad at 150 feet. Then I saw the trail of debris....
After the race, the corner workers came over to pick up the bike, and said we'd need a truck. I laughed and said "bring a box too". Apparently while I was rag-dolling through the infield, the bike performed a spectacular infield crop-dusting of thousand dollar titanium, aluminum and fiberglass bits. My day was done.
As the corner workers were tracking down my transponder and gathering up arm loads of other bits, I asked if they saw my lap-timer. "Found it!" was the reply of a guy 50' from the bike. He tossed it over, still attached to my gauges. I clicked it and started smiling... 1:27.66.
The crash truck came and we shoveled in the bits & pieces of the bike.
Had I made the pass, I would have wound up in 6th place for this race. It wouldn't have been enough points to move up my standings for the region. As it stands, I had a large enough points lead coming in to this race that I held onto my 6th place season finish.
Middleweight GP
I came into the final weekend in 7th place in this class. My only hope in moving up would be a no-show, or a crash of another rider ahead of me in points. My race buddy John Petta would have lent me his bike for this race, but I didn't see the point to it. I sat back and watched it complete without me.
Based on the finishes, I lost 2 spots overall, and finished the season out 9th for the region.
We left about 6:00pm for the trip home. I was (and still am) walking a bit funny. It seems mostly to be a good muscle bruise. I was concerned that I might have cracked my tailbone, but it doesn't seem too bad. Just the muscle. I definitely feel like a fresh cute inmate at a large prison though. During the 6 hour ride home, all I could think of was Morgan Freeman in the Shawshank Redemption talking about Andy Duphrane "it was the longest night of his life"... Indeed Morgan, it was...
---
Year end pics of the bike & wood.
Wrap-up:
Is it wrong of me to still be jazzed, even though I've destroyed my bike? I hope not. I'm still just thrilled that I ran as good as I did. Sure, the crash sucked, but I didn't get hurt, and at least it didn't happen earlier in the season. Now I have a chance to take my time in repairing it (as well as waiting until I have a few bucks to get things back together). 1:27's... I never thought I'd be there. I can't wait until next year to best that down to a 1:26...
Stay tuned for the season wrap-up!
This weekend's Thanks List:
Thanks to everyone who reads the reports & sends your encouragement. It means a lot to me, and has definitely helped me through the season. Look for a full "Thanks" list in the season wrap-up.