2005 Race Report 10:
9/24-25/05 - Blackhawk Farms Raceway, Rockton, IL
---
Racing gets me all wet!
With the final Blackhawk weekend of the year upon us, I had 2 lofty goals.
1) Run at least 1 - 1:12 lap.
2) Bring home some Honda contingency money!
Looking at the weather, it was going to be "iffy" at best. When we got to the track on Friday night, I had a shot set of slicks mounted up on one set of wheels, and a brand new set of DOTs on the second set. I had ordered a new set of slicks which were going to be for a couple races this weekend and next weekend, but I didn't have them to put on yet.
This also happens to be a Honda Money weekend, so 5th or better will pay out cash for me, so doing well was more of a mandate than an option.
---
Sat 9/24:
The day began cooler and overcast. I wasn't sure what the weather would hold for us.
I went out for practice on the old slicks, hoping I could just run a few nice & easy laps. Well, the track was a bit slippery due to the lower temps, and those slicks were beyond shot. I couldn't hardly run a 1:20 without sliding like mad.
Coming in from the first practice, I pulled the slicks and put on my new dots. That shaved an instant 5 seconds off my times. I was confident I could run 12's today in a dry race...
Shortly before the races began for the day, the skies opened up and it began raining. It did not look like it would stop, so I mounted up my rain tires on the spare wheels and put them on the bike for the only race we had today. I have been procrastinating buying new rain tires for several years as they still look good, but being 5 years old, I don't know who I was trying to kid. They're SHOT.
Middleweight GP:
I came into this class today in 5th place, -36 points from 4th place, with little chance of moving up, but I really like racing in the rain, so why not give it a go. It requires a smooth touch and good form. It really makes you work.
My launch was not bad. I got into my rain riding mode and by T3, the race had 3 distinct groups. Group 1 which had 3 guys in it, group 2 which I was the 2nd bike in, and then there were a handful of riders after us.
I felt pretty confident after the first lap and needed to get around Simon (who was leading me and keeping me from the front pack). I made my way around Simon pretty easily and instantly had 2 goals. 1, open a gap on Simon so he can't get me back; and, 2, gain ground on the lead pack.
The tires were holding well, and I was smooth as silk. I came through turn 4 quite well, and tipped into the faster turn 5. I was very neutral on the throttle, but as I hit the apex of the turn, I saw the lead group just a second ahead of me, going into T6. Having this overwhelming need to gain ground, I fed a bit more throttle into the bike. Bad move... I was instantly on my back, sliding off the track. 3 thoughts hit my mind at that point.
1 - I've got to stop sliding QUICK so I can get back on the track. Can't lose places!!!
2 - Damn, this pavement is making my left hand HOT!!!
3 - Oh man, I'm gonna hit the bike
I finally stopped about 150' from where I touched down, 50 or so feet of pavement and then the rest was short grass followed by 4' tall weeds. I had a complete face full of sandy dirt which filled my eyes & mouth. I was spitting like mad as I ran over and picked up the bike. A quick check of levers, make sure there are no cracked cases, pull off wads of weeds and then 30 seconds of spinning and rocking to get the bike out of the weeds.
Crash sequence pics from Mike's Photography (except pic 2)
I finally got back on the track, and I found out later that they were throwing the debris flag for me as I was still dropping sod & crap all over the place.
I managed 9th out of 11 in this race.
Back in the pits, I was (and still am) absolutely amazed at how LITTLE damage the bike sustained. After this sizable slide, there was literally NO damage to the bike. The frame slider cap was worn down, and the swingarm spool (slider) was also worn. The rearset shows NO damage, as if it didn't even touch down. I bent a part of my clutch lever (still usable), but oddly enough, there isn't so much as a SCRATCH on the clip-on tube (handlebar) which extends about 2" further out than the clutch lever!! I also bent the adjuster pin for my brembo master cylinder which was a 10 minute replacement.
Everything need a good hosing off (including me!), but that was it. As far as crashes go, I'll take one like that ANY DAY over the alternatives. I've sustained more damage in a 0-mph tip-over than I did in this 60mph or so crash. As the day wore on, my right knee got a bit tender, but I don't think it's anything serious enough to warrant a trip to Dr. Twist-N-Poke.
Saturday night, we had a great track-side feast. Steak, Chicken, Ribs & all the fixins. John's sister came down with her 2 little ones, Mike (Sindarin) stayed over for dinner, and shortly thereafter, my parents arrived with my niece. We hung out and chatted until about 11:00pm and called it quits, hoping for a dry Sunday.
---
Sunday 9/25:
The clouds broke and sun shined through. I pulled off the rain tires and slapped on the DOTs in preparation for practice. The second I plugged the warmers in, the downpour began...
I really hate changing tires, so by now I'm cussing and throwing things.
I slapped the rain tires back on for the first of 3 races today.
Middleweight Superbike:
I came into this class in 6th place, with a 36 point gap on 5th place.
This was the first money race of the weekend, but I didn't realize this class paid until Monday! I thought Heavyweight Supersport would be my first contingency class, but I was incorrect.
Still a bit jittery about the amount of traction available on my ancient rain tires, I tiptoed around the track for a mid-pack 11th place finish. The finish didn't hurt me in the points though as I finished 1 spot in front of the guy ahead of me in points, so I now still remain in 6th with new 35 point gap on 5th.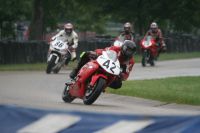 Being a bit more gentle through the turns
Heavyweight Supersport:
This is my best class so far this year, and I was in 5th place trailing 4th by a seemingly impossible 45 points.
The grid was small, around 15 people registered, but only around 10 people came out for the race, so hitting 5th or better would be pretty easy so long as I stayed upright. After launch, I was in 4th place. 4th to 3rd was a pretty decent gap, and I didn't want to get greedy and land on my head, so I ran as comfortably as I could.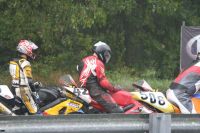 Waiting on the line with Edgar (on left) and Deni Debuhr (#506)
Around the 3rd lap, Johnny Moore passed me on his SV-650 (a bit easier to ride in the rain due to a lot less power). I followed him around, knowing if I was close to him, I could shoot him to the line at the finish for 4th. That's exactly what I did. Last lap, last turn, I took the outside of him and shot him to the line for an additional piece of wood for the "wall of fame".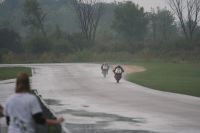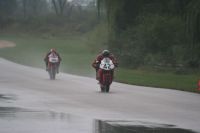 Taking Johnny Moore (#55) to the line for 4th place
My finish also bumped me up in the standings to 4th place trailing 2nd & 3rd who are tied 53 points ahead of me, and leading 5th place by a small gap of 8 points.
Unlimited Supersport - Sponsored by Sindarin:
Mike (Sindarin) was out snapping pics and lending a hand this weekend, and offered to sponsor this race for me. I had never run Unlimited Supersport before, but the grids are traditionally small, and it would be a good shot at the contingency money, so I decided to give it a whirl.
Last race of the weekend, last race of the day. It was a MONSOON out on the track. An absolute downpour. By lap 2, my soul was wet. At about 110mph, rain pierces leather like needles. God help you if you stuck your neck out. It felt as if I was under a 15 minute firing squad of pellet guns.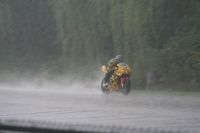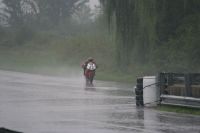 #28 riding in the monsoon - Me coming down the straight in the downpour
I was again, 5th out of turn 1 behind Johnny Moore. I made quick work of him and tried to creep up on 3rd place, but just couldn't comfortably do it. I held my own in 4th and completed a fairly uneventful race which netted $500 in contingency bucks. Huge props out to Johnny who did show me a wheel in turn 6 on the last lap just to let me know he was still there! LOL. We had a good after-race laugh about it.
We packed up and made it home, all soaking wet with a ton of cleaning and drying out to do. Much work before the final race of the season on 10/8-9 at Gingerman.
---
Wrap-up:
Another reasonably decent weekend. I am disappointed that I have to end the season having only run a 1:14.0 as a best lap here, when I know I can do 12's, but there's not much I can do in the rain. I also have discovered the age limitations of rubber, and the consequences of such.
With the points game still on, I'm now:
HWSS - 4th place trailing 2nd & 3rd who are tied 53 points ahead of me, and leading 5th place by a small gap of 8 points.
MWSB - 6th place, trailing 5th by 35 points and leading 7th by 18 points.
MWGP 7th place, trailing 6th by a mere 4 points and leading 8th by 8 points.
This weekend's Thanks List:
Mom, Dad & Lexi - Thanks for coming down in the rain to cheer us on. It's always great to have a crowd.
Sindarin: Thanks for your race sponsorship and for coming out again to shoot pics and cheer us on as well.
And as always, thanks goes out to all of you who read the reports, donate to us and support us with your words of encouragement and congratulations!