Race Report 6:
07/31 - 08/01 - Gingerman Raceway - South Haven, MI
---
Stop thinking so much, Have FUN!
These simple words were worth an unbelievable 6 seconds on Saturday. With much anticipation, high expectations, and a touch of nerves, we headed up to Gingerman Raceway in South Haven, MI. Gingerman is my absolute favorite track. I've always liked it, and every single race I've ever entered at Gingerman, I've gotten wood in (5th place or better).
We got to the track around 9:30 EDT (losing an hour coming from CDT). We set up, and I changed the rear tire on the bike for an older (practice only) tire. Gingerman chews up tires easily, so I wanted to conserve the best rubber for race day on Sunday. In changing tires, I realized that my rear Vortex sprocket was looking really bad. Knowing that Gingerman is a much slower, more technical track, I had a lot of room to change gearing. I went with a rather aggressive 15:46 combination.
We turned in around 1:00am, but for whatever reason I just couldn't sleep. I managed a few hours of light sleep before getting up at 7:00 for practice.
Sat 7/31:
Today was nothing but practice. I went out in the first 2 sessions with no expectations other than to get back on the track, try out the new gearing and pick up my reference points again. I was VERY surprised to see that I was running consistent 1:34's. This is surprising since my official lap record was in the 1:30's, and I really wasn't trying to be fast.
During the 3rd session, my teammate Anthony Connor wanted to follow me around. With that in mind, I figured I'd wick it up and run some 31's. Well, the harder I tried, the slower I went! I was mentally shot, running HARD and with much effort, I was clicking off horrific 36's & 37's. Unreal...
I came back in and met up with my buddy Ike who came up to pit for me this weekend. I talked to him and explained my frustrations. He sat me down and got my head screwed on straight. "Stop thinking about everything so much, and just go out and ride! Have fun! You love this track, and the bike is perfect. Go ride it".
I went back out and immediately started running 32's & 31's.
The truth continues to be that 90% of racing is between the ears... I know what I'm doing, and how to do it. I just needed to stop trying and go ride.
After wrapping up a good day of practice, I had Ike put on a different rear tire for Sunday races, and we had dinner & turned in early.
---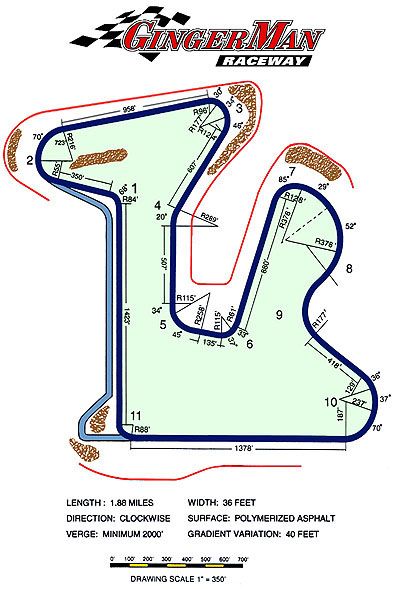 Sunday 8/1:
I was quite surprised to see as many people as I did at the track, and as many BIG names. Then I found out that it was a Yamaha money weekend, so all the high-end cherry-pickers showed up for payday. Placing this weekend will be difficult...
Race 1 - Heavyweight Supersport. I was on the outside of the second row for this race, which is a good starting spot. It lined me up perfect for the left hand turn 1. My launch was great. The gearing selected for this track had me with my front tire about 2' off the ground all the way until I dropped off the gas for T1. I don't like to wheelie off the start as it's not very efficient, but so long as I didn't have to chop the throttle to bring it down, I was okay with it.
Head down, I was running hard. The first few guys disappeared within a couple laps. I found myself surprisingly, running right on the tail of my fellow cbr600rr racer, Stumpy. Stumpy has been faster than me all year, so I was surprised to be this close, and realize I could get around him with any mistake he'd make. Around lap 4, I saw his mistake coming. He chose an outside line around a lapper, and got hung up. I took the inside around the both of them, head down and tried to run away the best I could.
I knew he was right on my tail and any mistake I'd make would cost me a spot. I ran hard and smooth. Then coming up on the white flag, I repeated Stumpy's mistake by taking a bad line around a lapper. As soon as I committed to the line, I realize I was going to lose a place. I was cussing in my helmet as Stumpy came around us on the inside. Although I couldn't see, I know he was grinning as he went around me. I got past the lapper and back on Stumpy's tail. Through the white flag, I ran into turn 1, and my teammate Anthony Connor came flying past me into T1 like he lost his brakes.
God only knows how he made those tires stick through the turn, but they held, and I was close on him trying desperately to find a place to pass. In T2, the large uphill sweeping right, I tried, but couldn't get past. I then went after him in T3. Coming in hot, I was RIGHT on top of him. I got on the gas early to get him on the exit, and the power came on a little too much, too soon. Giving the crowd something to gasp about, I slide the rear end out by about 2 feet. I thought I was going off the high-side for a moment, but managed to stand the bike up just enough to regain traction. It was momentum lost though, which cost me a couple tenths of a second, putting 4-5 bike lengths between Stumpy, Anto & Myself.
Head down, I did my best to close the gap, but simply couldn't. Across the finish line, I wasn't sure where I ended up, but was surprised to hear I finished 5th. This was cool, since it meant I had run a majority of this race in 3rd place! It was also the first wood of the weekend, and first wood of the SEASON for that matter!
Off the bike, I took a look at the rear tire and realized that it would last one more race, but not two. Being as how my next two races were only separated by about 10 minutes, I opted to change the rear early versus between the two races. Ike grabbed the tools, and swapped tires yet again.
Race 2 - Unlimited Supersport:
Starting again on Row 2, I ended up in the middle of a melee in T1 which put a couple of riders in the grass and a slowed EVERYONE down. This REALLY stunk because it gapped the first group of riders from the rest of us.
I started running really good lap times, and began dicing with #690 Simon Kowalski on his GSXR-750. I could get around him pretty easily through the turn 8-9 combo, but he would get back around me in either T11 or T1. We traded places for a few laps. Late in the race, he held a VERY tight line through the inside of turn 9 which was one of my favorite passing spots. His line though was TOO tight, to the point that his knee clipped an orange cone which promptly flipped up and smacked right into my face shield. In turn, I filled my shorts and gave up a few bike lengths while getting reoriented. I managed a 9th place in this race, which wasn't great, but all things considered, it was okay by me.
Race 3 - Middleweight Supersport:
This class is the most competitive of them all, and the fastest of the bunch were out to land the substantial purses for this race. The launch was about all I saw of the leaders. They were FLYING (within a few tenths of a second from the lap record).
In this race, I began having problems with my lines in turn 2. The exit of this turn can be REAL rough if you don't get the line right, and once you screw it up, you begin thinking about what you're doing which has this whole domino effect on everything you do in the turn on the subsequent laps.
A little more than 1/2 way through the race, I was coming through T2 and blew it. On the exit, my team mate Anto Connor came by the inside of me, but his line had 2 of us on the same pavement at the same time. Here's the dilemma... If I let off the gas, I crash. If I don't, I hit him and we both crash... Well, I figured, there might be a slight chance one of us would stay up, so I stayed hammered on the gas and clenched my teeth waiting for impact. His rear tire came out in front of mine, and I don't know HOW we didn't touch. We had to have been within 1-2 inches. When we were both upright, he gave that little wave of "sorry dude" which I accepted and we continued the race. I returned the favor, showing him wheel in a couple corners throughout the rest of the race, but I couldn't make it stick to the point of getting around him, and I didn't want to take us both out so I settled in behind him for the finish in 10th place.
Wrap-up:
I relearned a lot this weekend, and I feel very good about it. Racing is this huge roller-coaster where you're up and down repeatedly. I'm on the upswing now and look forward to continuing it. It just took the "reset" of remembering that I'm doing this because I LOVE it and it is FUN. Not for anything else.
My goal for the weekend was to run consistent 29's, and I was pretty close, running consistent 30's, and occasional 29's. However, my laps were fast and consistent, so I'll take them as success. Plus, for ONCE, I made it through a weekend without crashing. Yet another success story! I landed my first wood of the season this year, and although I didn't land wood in all 3 classes, I still managed one and held top 10 for the other two races.
In all, this was my best and most enjoyable weekend this season. I look forward to the remaining 3 weekends to be just as exhilarating.
This week, I need to give out a special thanks to:
Ike Anderson - Thanks for coming out to lend a hand, it was really appreciated.
My wife Jennifer - Thanks for keeping my tires warm & helping out with everything!
Mitch the Dunlop guy - Thanks for the quick change of the rear tire when I least expected it.
And again, thanks to YOU, the fans, friends & family who cheer me on whether I'm doing good or bad.
---
JeF4y Racing is proudly sponsored by:
Lake Country Powersports - For all your Honda/Suzuki/Ducati needs!
Hi-Side Racing - Race products, for racers by a racer!
Scotts Performance - Steering stabilizers & reusable Stainless Steel oil filters
MD Racing - Kyle Gordis measuring/alignment system, VP Fuel, Race bodywork & engine building
Moto Liberty - All of your gear needs, street and race!
Sliderwoman - The place for Pucks
Silkolenestore - Only the best lubricants for my CBR600RR
Trackside Engineering - Suspension first, everything else is secondary.
Sliderphoto - Making riders look like professionals!
PDI Tirewarmers - Better & Cheaper than the rest!
Moto-Heaven - Thrust Gearing, XES custom leathers, Wintex gear
---
So? What do you think? Am I great? Do I suck? Let's hear it... Post your comments in the Forum